On February 23rd, ASBM presented a Continuing Education (CE) course entitled "Biosimilars- What's New in 2020?" to a class consisting of more than 75 New York area pharmacists. The event took place at the LaGuardia Marriott in East Elmhurst, NY and was hosted by Long Island University College of Pharmacy (LIU-Pharmacy). This is the fourth time ASBM has presented a course on biosimilars with LIU-Pharmacy; read about previous courses here: March 2015, November 2016, and September 2018. 
The course began with pre-course learning assessment questions presented by Joseph Bova, RPh, Director of Continuing Education for LIU-Pharmacy, and ASBM Advisory Board Chair Philip Schneider, MS FASHP FFIP.  The program consisted of seven presentations, each focusing on one important aspect of biosimilars. Interspersed with these were five short videos featuring interviews with additional patients, physicians, and pharmacists, including inaugural ASBM Chair Richard Dolinar,  MD; immediate past Chair Harry Gewanter MD FACR; and ASBM Steering Committee Member and patient advocate Kathleen Arntsen, CEO of the Lupus and Allied Diseases Association.
Presentation 1: Biologic and Biosimilar Medicines: Their Purpose, Development, Structure, and Effects
Philip J. Schneider, MS, FASHP
Advisory Board Chair, Alliance for Safe Biologic Medicines
In the first presentation, Dr. Schneider begins by explaining what biologic medicines are, how they were developed and approved, and how they are used to treat serious conditions including rheumatoid arthritis and cancer. He then explains safety, storage and handling considerations that result from the greater size, complexity, and sensitivity of biologics, relative to small molecule drugs.
He follows with a discussion of biosimilars, discussing differences between biosimilars and chemical generics- chief among them that biosimilars are not identical but only highly similar to their reference products. In addition, he discusses differences between the approval processes of generics, biosimilars, and originator biologics, emphasizing the importance of improved pharmacovigilance for products with abbreviated approval pathways.
View Dr. Schneider's presentation here.  
Video 1: Approval and Interchangeability
Video 2: Benefits of Biosimilars
Presentation 2: Physician Perspectives on Biosimilars
Madelaine Feldman, MD, FACR
Chair, Alliance for Safe Biologic Medicines
In this presentation, Dr. Feldman discusses physician perspectives on four key biosimilar policy issues affecting medical and pharmacy practice: Naming, Interchangeability and Substitution, Non-Medical Switching, and Increasing Biosimilar Uptake.
Dr. Feldman began with a discussion of ASBM, its surveys and its work bringing the patient, physician and pharmacist perspectives to regulators worldwide. This includes ASBM's history of participations in the WHO INN Consultations and its recent discussion forums on biosimilar naming in which the WHO, FDA, and Health Canada participated.
Regarding naming, Dr. Feldman discussed the importance to physicians worldwide of distinct naming for all biosimilars. Support for distinguishable biologic naming varies from 68% to 94% depending on country and region. She noted that significant percentages of physicians globally use the nonproprietary name when recording the prescribed biologic medicine in the patient record, which could result in the patient receiving the wrong medicine. Similarly, significant percentages of physicians worldwide use only the nonproprietary name when recording adverse events; which could result in their misattribution to the incorrect product.
Regarding substitution, Dr. Feldman emphasized the importance to physicians of communication from the pharmacist in the event of a biosimilar substitution; and of retaining the authority to prevent a substitution they deem medically inappropriate by using "dispense as written" (DAW). She also clarified that the U.S.-specific standard of "interchangeability"-applied to biosimilars suitable for pharmacy-level substitution-  is not intended to be transitive. That is to say, even if biosimilar A and biosimilar B are both interchangeable with the same reference product, they are not interchangeable with each other. Dr. Feldman also discussed physician concerns with the non-medical switching of patients on biologics- switching these patients' medicine for non-medical reasons. This is typically done by an insurer or PBM for cost or other financial reasons. Treatment decisions, including which biologic to use and if and when to switch, should be made by the patient in consultation with his or her healthcare team, rather than a third party payer, Dr. Feldman emphasized. She also discussed the example of two Canadian provinces which have recently begun the mass non-medical switching of thousands of their patients, and how the gastroenterologist community in particular has responded and expressed its concerns with this policy.
Dr. Feldman shared data from ASBM's recent survey of 579 European prescribers of biologics, which showed these prescribers have high confidence in biosimilars, but nevertheless consider it extremely important to retain physician and patient control over treatment decisions: A strong majority of respondents (82%) considered it "Very Important" or "Critical" to decide which biologic medicine is dispensed to their patients, an increase from 72% in the 2013 survey. In addition, 84% consider the authority to prevent a substitution either "Very Important" or "Critical", an increase from 74% in the 2013 survey. While 84% of physicians were comfortable prescribing biosimilars to new patients, the comfort level drops to 60% when switching stable patients to a biosimilar. 58% of physicians were uncomfortable switching patients to a biosimilar for economic rather than health reasons. If the non-medical switch were made by a third party, 73% would be uncomfortable.
Finally, Dr. Feldman discussed ways to increase biosimilar uptake- including an explanation of the physician's cautious approach to choosing a medicine. Data showing safe use and safe switching of stable patients, she noted, are critical to building physician confidence. Distinct naming also reassures physicians that these products can be used safely and their effects tracked accurately.
Yet many of the obstacles to biosimilar uptake are commercial, and more approvals and lower cost does not translate to greater access for patients. For example, while 26 biosimilars are approved, only about half are currently available.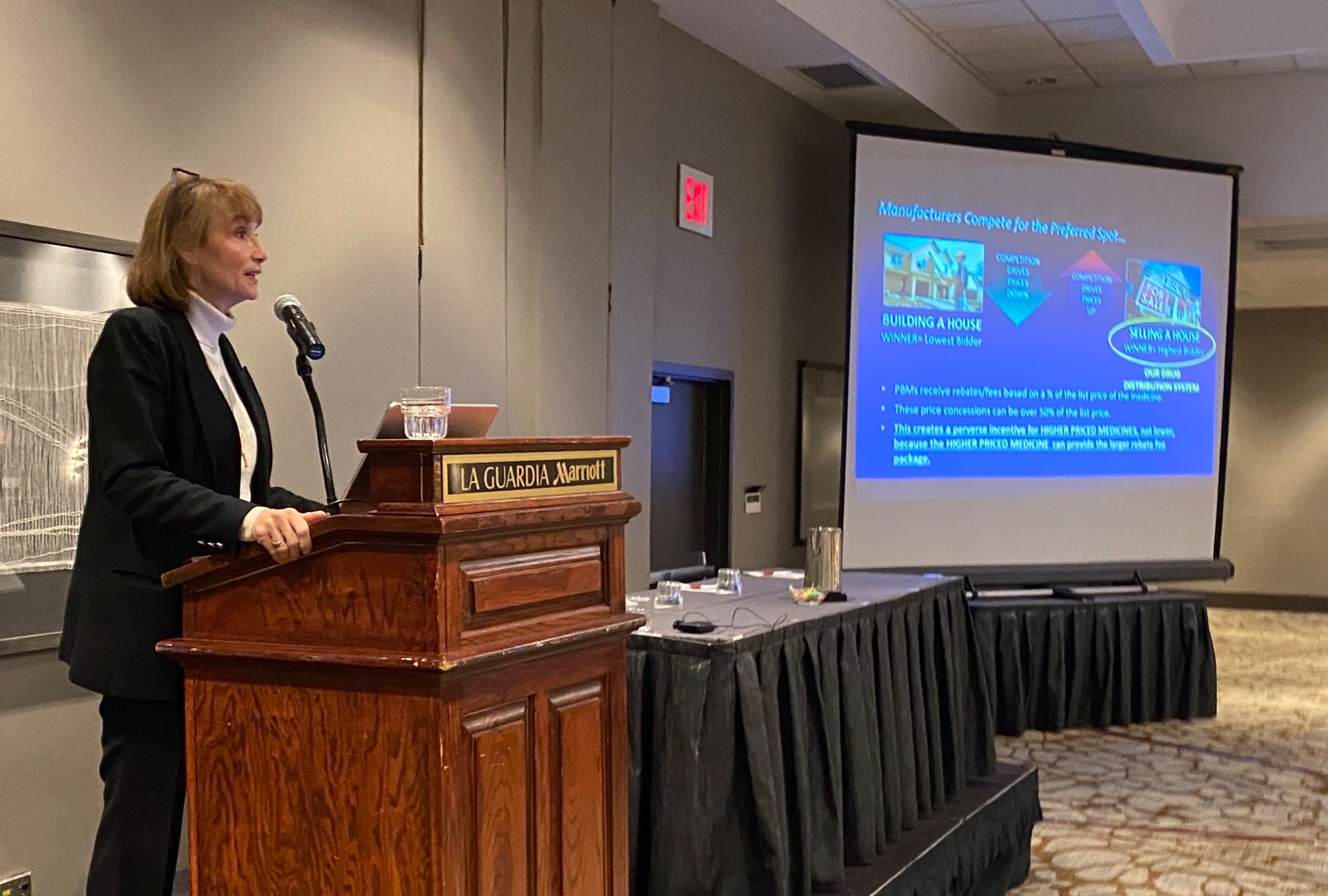 Patent litigation is common, which can result in delayed introduction of biosimilars. Finally, manufacturer rebate arrangements mean that PBMs may not give the lowest cost product preferred placement, posing a further- and more significant- barrier to uptake.
View Dr. Feldman's presentation here.
Video 3: Pharmacists and Biologic Naming
Presentation 3: Biologic and Biosimilar Naming: Pharmacist Perspectives and International Harmonization
Philip J. Schneider, MS, FASHP
Advisory Board Chair, Alliance for Safe Biologic Medicines
In this presentation, Dr. Schneider discussed considerations in the naming of biologics, including biosimilars, and the benefits of distinct naming. He described naming systems in use around the world, including the FDA's four-letter suffix system, and the WHO's proposed biologic qualifier or "BQ" system, which would also use a four-letter suffix if implemented. He shared survey data from ASBM and the Academy of Managed Care Pharmacy showing strong support among US pharmacists for distinct naming. He discussed the importance of having multiple, redundant layers of "defenses" in pharmacovigiliance and how this concept can be applied to distinct naming, and how different regulators around the world are approaching this problem, with varying degrees of effectiveness.
He also examined the benefits of and progress toward international harmonization of biologic nomenclature, including ASBM's work with the WHO's INN Programme. He highlighted perspectives gathered at ASBM's April 2018, July 2018, and March 2019 forums at which FDA , Health Canada, WHO, and other stakeholders met to discuss the need for harmonization. Finally, Dr. Schneider discussed his work with the International Pharmaceutical Federation (FIP) which has begun addressing the issue of distinct biologic naming in its policy guidelines and its educational sessions.
View Dr. Schneider's presentation here.
Presentation 4: Why Should Pharmacists Care About Biosimilars? 
Philip J. Schneider, MS, FASHP
Advisory Board Chair, Alliance for Safe Biologic Medicines
In this presentation, Dr. Schneider examines why biosimilars are relevant to the pharmacy profession. First, he examines rising drug costs, much of which are driven by the cost of biologic medicines. Biosimilars, he explains, can be a tool to control these costs. However, biosimilars are not generics, and savings are not as high as with generics. In addition, significant discounts are not automatic- it is important to maintain competition between multiple products. Lessons from European biosimilar markets show this creates downward pressure on prices, without disincentivizing either innovator of biosimilar production. Other issues raised were the declining autonomy of healthcare professionals- where gag orders, preferential treatment of products by payers, or other financial incentives such as gain-sharing can distort the normal process of treatment decision-making. Dr. Schneider believes that the role of health care providers is to act as "learned intermediaries" in treatment decision-making. In effect, they are able to balance patient-specific factors against the the considerations of broad populations of patients- which are the primary focus of government regulators and private payers.
Read Dr. Schneider's presentation here.
Presentation 5: Biosimilars: The Patient Advocate's Perspective
Andrew Spiegel
Executive Director, Global Colon Cancer Association
Mr. Spiegel spoke about his experience as a patient advocate following the death of his parents from cancer. Today, he explained, the life expectancy of patients diagnosed with colon cancer has tripled, in part due to biologic medicines. Biosimilars, Mr. Spiegel emphasized, hold great promise for patients- offering new therapeutic options and doing so at lower cost. However, he cautioned that the benefits of biosimilars will not be realized unless they gain the confidence of providers and patients.
A key topic Mr. Spiegel discussed is Non-Medical Switching.  The choice to use an innovator biologic or biosimilar, must always be made by the patient and physician, rather than a third-party payer.
"Treatment decisions, including the decision to switch from one medicine to another should be made for medical reasons that benefit the health and safety of the patient, not for non-medical reasons that might benefit a a company's shareholders", said Spiegel. He then outlined practices that payers may use to force a patient to switch to a non-interchangeable biosimilar, such as changing their medical coverage or health care premiums.
He also discussed the situation in Canada, where two provinces recently announced that they would be forcibly switching 50,000 patients from the medicine they and their physicians chose to a government-chosen biosimilar. "This is not how patients in Europe are treated. In nearly every country, new patients are encouraged to try the lower-cost biosimilar, but the physician and patient choose the medicine they want, and the payer will continue to reimburse it."
Pharmacists, Spiegel said, serve an important role in patient care and should be well-informed by transparent, informative product labeling regarding a biosimilar's approval, especially regarding indication extrapolation: "Pharmacists are the last line of defense for patients, the last link in the chain…they should give informed advice to patients about the benefits of biosimilars, as well as helping track possible adverse events."
View Mr. Spiegel's presentation here.
Video 4: Non-Medical Switching: What to Physicians and Patients Think?
Video 5: Pharmacists and Non-Medical Switching
Presentation 6: Biosimilar Substitution: A Collaborative Approach to Pharmacovigilance
Philip J. Schneider, MS, FASHP
Advisory Board Chair, Alliance for Safe Biologic Medicines
The next presentation was given by Dr. Schneider, and dealt with biosimilar substitution policy in the United States. Dr. Schneider emphasized that while Congress sets the legal definition of interchangeability, and the FDA makes the scientific determination of which biosimilars are interchangeable, it is the individual States that govern when and how a pharmacist can substitute an interchangeable biosimilar.
Following a brief discussion about substitution policy globally (including Canada, the EU, Latin America, and Australia) Dr. Schneider spoke about the evolution of biosimilar substitution legislation in the US.
He focused his discussion on laws passed by 46 states and Puerto Rico which require a pharmacist to communicate to the prescribing physician which product- the originator or the biosimilar- was actually dispensed to the patient. These states also allow a physician to specify "do not substitute" or "dispense as written" in order to prevent a substitution they consider medically inappropriate.
A collaborative and communicative approach to pharmacovigilance, Schneider argued, is good for everyone. It empowers the pharmacist to offer the patient new and lower-cost treatment options, it allows the patient to be an engaged partner in a their own care, it allows the physician to maintain an accurate patient record and make informed treatment decisions, and it improves safety overall by promoting accurate attribution of adverse events to the proper medicine.
View Dr. Schneider's presentation here.
Presentation 7: Pharmacists and Biosimilars: The Role of Pharmacists in Managing Biosimilar Use
Daniel Tomaszewski, RPh, Phd
Assistant Professor in Pharmacy Administration, Chapman University
In this presentation, Dr. Tomaszewski discusses the role of pharmacists in collaboratively managing patient care regarding biologics. This includes managing prior authorizations from PBMs, and dealing with patient use concerns including ensuring adherence and increasing familiarity with biosimilars. He discussed his work with AMCP on a 2016 study that showed strong support for distinct names for biosimilars. He emphasized the importance of real world evidence (RWE) in building confidence in biosimilars, and the importance of pharmacists in gathering it.
Echoing the concerns of many physicians, Dr. Tomaszewski discussed the impact of post-approval barriers to biosimilar access including patent litigation and payer policies. He concluded with proposals on how to improve education on biosimilars, including a need to focus on providing fact driven data, to encourage better pharmacist engagement in specialty drug utilization, to ensure appropriate medicinal chemistry, pharmacologic, and therapeutic understanding of biologic agents, and to become knowledgeable about coverage/formulary/utilization management strategies likely to be put in place.
View Dr. Tomaszewski's presentation here.
The course concluded with a Q+A session with a panel featuring all presenters, followed by a learning assessment in which attendees were quizzed about what they had learned throughout the five-hour program.