On Friday, July 22nd, The Alliance for Safe Biologic Medicines and MedChi, the Maryland State Medical Society co-hosted a forum entitled "Biosimilars: New Choices, New Challenges". The event was attended by more than 45 physicians, legislators, patient advocates, healthcare workers, and others.
MedChi's CEO, Gene Ransom III began the forum with a discussion of the importance of biosimilars in bringing new treatment options to patients. Mr. Ransom demonstrated MedChi's knowledge of biosimilar issues, and detailed the organization's history of advocacy for transparency in biosimilar naming and labeling, providing examples of MedChi's work in urging FDA to support these policies.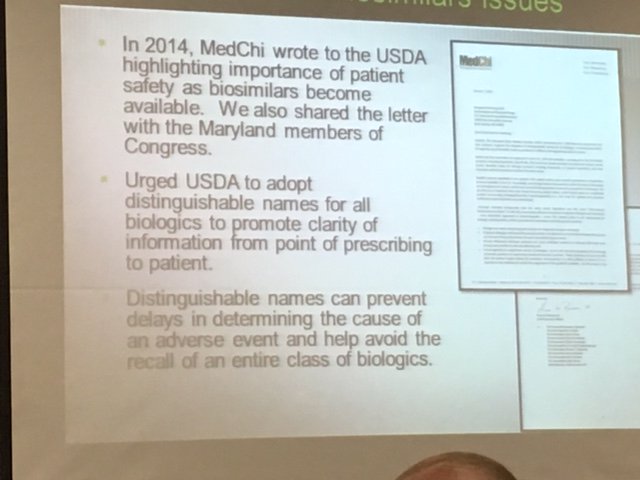 In regard to biosimilar substitution, Mr. Ransom discussed  MD Senate Bill 0537, which MedChi supported. SB 0537, like substitution bills in many states, requires a pharmacist to communicate to the prescribing physician within 5 days which product- the originator or the biosimilar- was dispensed. The bill passed the Maryland Senate 46-0, but died in the House Committee on Healthcare.
ASBM Chairman, Harry L Gewanter, MD then presented a brief overview of biosimilars. He discussed the benefits they can bring to patients, and how their differences from generic versions of chemical drugs (which do copy their reference products identically) create several policy challenges which must be addressed in order for patients to realize those benefits.
First among these are biologic naming. Echoing MedChi's concerns, Dr. Gewanter emphasized that clear product identification is critical when prescribing, dispensing, and tracking efficacy of all biologic medicines. Dr. Gewanter discussed the naming systems proposed by the FDA and WHO. Dr. Gewanter shared data from ASBM's surveys of biologic prescribers in eleven countries which show strong and widespread support for distinct naming. In the U.S., 66% of biologic prescribers support the FDA issuing distinct names for all biologics, including biosimilars.
Regarding biosimilar substitution, Dr. Gewanter showed data from ASBM's survey of 400 U.S. physicians which revealed that MedChi's concerns were shared by most physicians.  80% considered it "very important or critical" for a pharmacist to communicate to them when a biosimilar has been substituted at the pharmacy. 82% considered it "very important or critical" to have the authority to block a substitution they deem inappropriate for their patient by indicating "Dispense As Written (DAW)" on the prescription.
Dr. Gewanter's presentation may be viewed here.
ASBM's Advisory Board Chair, Philip Schneider, Professor and Associate Dean at the University of Arizona's College of Pharmacy then provided the pharmacist perspective on biosimilars.
Regarding naming, Dean Schneider discussed the long tradition of pharmacists avoiding look-alike or sound-alike names for different medications. Dr. Schneider also noted that while national pharmacy societies such as the American Pharmacist Association (APhA) and the American Society of Health-system Pharmacists (ASHP), (of which Dr. Schneider is a past president) have expressed skepticism, rank-and-file pharmacists have generally been supportive of distinct naming . An ASBM poll of 401 U.S. pharmacists revealed that 68% support the FDA distinct names for all biologics, including biosimilars.
Finally, Dr. Schneider raised the issue of transparency in biosimilar labeling. ASBM surveys of physicians and pharmacists show these healthcare providers want more informative and transparent labeling than is currently required by the FDA's Draft Guidance on Labeling of Biosimilars:
Dr. Schneider's presentation may be viewed here.
The final speaker was Andrew Spiegel,  Executive Director of the Global Colon Cancer Association, who gave a patient perspective on biologics and biosimilars.
Mr. Spiegel praised biologic medicines for their role in tripling the life expectancy of patients diagnosed with colon cancer. Biosimilars, Mr. Spiegel emphasized, hold great promise for patients- offering new therapeutic options and doing so at lower cost. However, he cautioned that the benefits of biosimilars will not be realized unless they gain the confidence of providers and patients.
Mr. Spiegel described his experience at recent FDA hearings, where committee members were given an "all or nothing" choice: approve a biosimilar for all the diseases it seeks approval to treat (or indications) for which it applied, or none at all. By contrast, in Canada, biosimilars are approved for each indication separately. The FDA's "all or nothing" approach is worrying, and does not serve the interest of patients, Mr. Spiegel argued.
Finally, Mr. Spiegel raised the emerging issue of Non-Medical Switching.  The choice to use an innovator biologic or biosimilar, must always be made by the patient and those who provide him direct care, rather than a third-party payer.
"Treatment decisions, including the decision to switch from one medicine to another should be made for medical reasons that benefit the health and safety of the patient, not for non-medical reasons that might benefit a a company's shareholders", said Spiegel. He then outlined practices that payers may use to force a patient to switch to a non-interchangeable biosimilar, such as changing their medical coverage or health care premiums.
Mr. Spiegel's presentation may be viewed here.